By: Gib Goodrich
Jan. 7, 2013
Please read the disclaimer page
Please visit our FORUM. All discussion, questions and comments about this article are welcome.
Compressed natural gas (CNG) powered vehicles promise lower fuel costs and better air quality, but concerns involving their limited range and fueling stations have stalled the technology from becoming mainstream...until recently, that is.
General Motors (GM) has stepped to the forefront of natural gas vehicle technology with the bi-fueled 2013 Chevrolet Silverado and GMC Sierra 2500 HD. Bi-fuel balances the cost and environmental benefits of CNG with the reliability and convenience of gasoline.
Here's a look at GM's bi-fuel pickups and why they're potentially the most important advance in truck technology in a decade.
Gasoline vs CNG – What You Need To Know
Gas is a broad term that refers to a number of different substances that are similar but not the same. To understand how natural gas and gasoline can work together, you need to know how they work independently.
Gasoline is a liquid refined from crude oil. Gasoline is an efficient fuel for the amount of space it takes (relatively high energy density), but it produces 19 pounds of carbon dioxide for every gallon used, and most of the oil used to create gasoline is imported from overseas.
Natural gas is stored in large underground deposits (typically shale beds) across the United States. When compressed, it becomes a liquid that can be used in much the same way that gasoline is used. The benefits of using CNG as a vehicle fuel source are:
CNG is readily available in the USA and does not need to be imported
CNG burns cleaner than gasoline
CNG is often less costly than gasoline, even when you account for it's lower energy density (CNG saves money on fuel)
However, the biggest downside of CNG is that is has an energy density lower than gasoline, which means CNG fuel tanks are larger than gasoline tanks and have a shorter driving range. Additionally, finding a CNG fill-up station isn't always easy.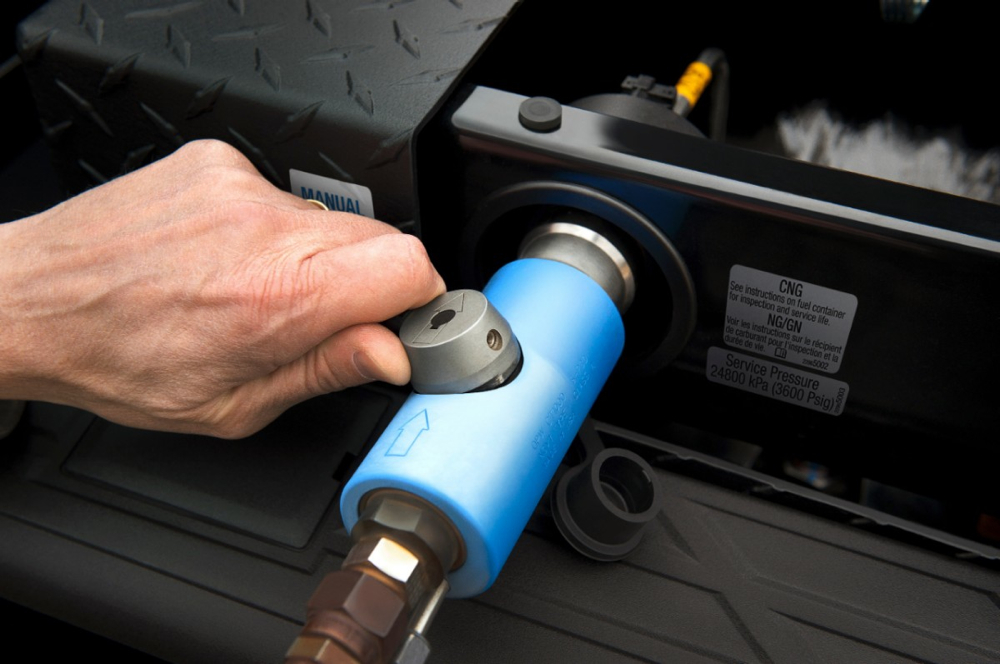 The Solution – Bi-Fuel Systems
Bi-fuel vehicles aim to have their cake and eat it too, as they can run on either gasoline OR CNG, and they can switch between the two fuel sources almost seamlessly.
GM's bi-fuel Chevrolet Silverado and GMC Sierra 2500 HD are factory-designed to incorporate both gasoline and CNG fueling systems, and they come with the same exact warranty you would find on a regular gasoline engine.
Because these vehicles can run on CNG just as easily as gasoline, owners can enjoy the frugality and green benefits of CNG without "range anxiety" that comes with being dependent upon a spartan CNG refueling network (most fuel stations don't offer CNG).
2013 Chevrolet Silverado 2500 HD and GMC Sierra 2500 HD Specs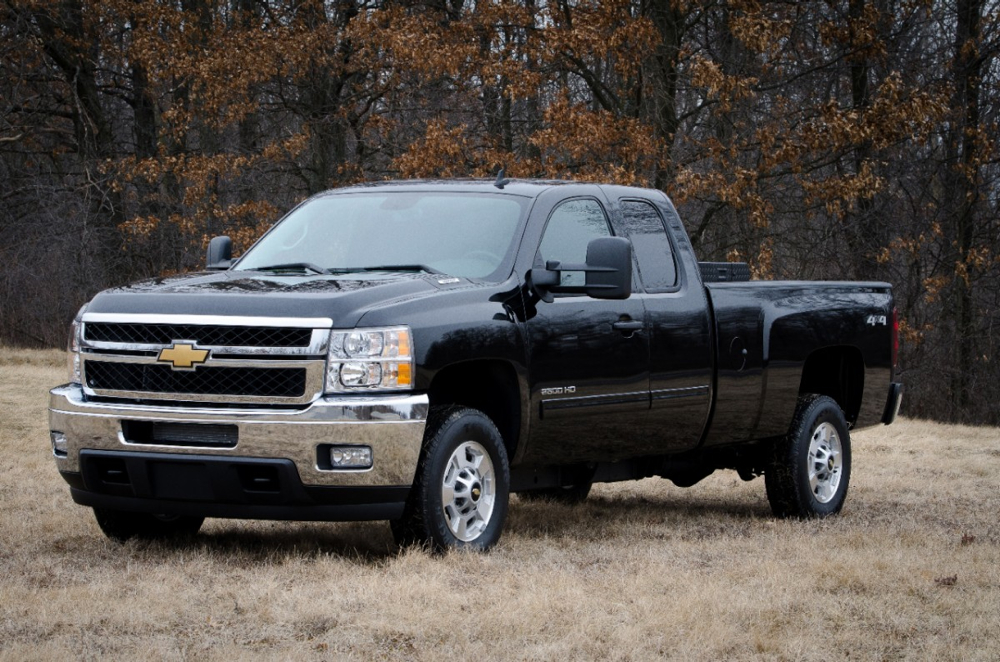 Both the bi-fuel Silverado and Sierra will feature similarities in the major basic features, all of which will be covered by GM's 5-year/100,000 mile Transferable Powertrain Limited Warranty. Owners can expect:
Engine: 6.0L Gaseous Fuel Ready Vortec V-8 Engine
Power: Gasoline- 360 hp @ 5400 rpm, 380 lb.-ft. torque
CNG- 301 hp @ 5000 rpm, 333 lb.-ft. torque
Transmission: Heavy-Duty 6-Speed Automatic
Payload: 3,035 lbs
Fuel Tank Capacity: Gasoline- 36 Gallons
CNG: 17 Gasoline Gallon Equivalent (GGE)
Estimated Maximum Range: 650+ city miles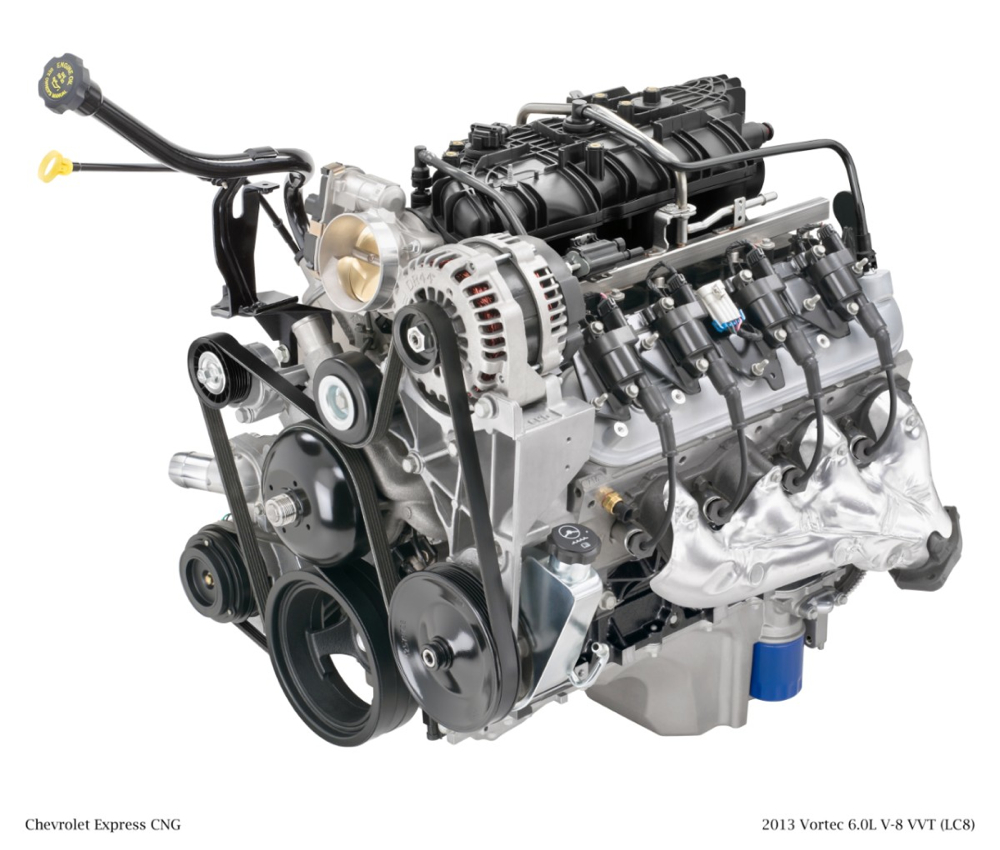 Options for bi-fuel enabled GM trucks include long or short beds as well as 2WD or 4WD.
While bi-fuel CNG conversion kits have been available for years, GM is currently the only manufacturer offering a factory-built CNG/gasoline bi-fuel system. Joyce Mattman, director, GM Commercial Product and Specialty Vehicles, said the technology "will save customers $6,000-$10,500 over a three-year period," and that number could be even higher if gasoline costs continue to skyrocket.
In summary, by offering a factory bi-fuel CNG system, GM has raised the bar for all pickup truck manufacturers. CNG is a locally sourced, cost effective, and environmentally friendly fuel that is all but certain to increase in popularity going forward.
Author Gib Goodrich is a car enthusiast and the man behind GMPartsOnline.net, a site offering OEM GM parts online.