By: Monstar_est87
Addendum: Aloicious
June 4, 2012
Please read the disclaimer page
Please visit our FORUM. All discussion, questions and comments about this article are welcome.
So this is how I setup my Efan... Consists of a MarkVIII efan, 96volvo duel speed fan relay and a 96 BMW temp sensor...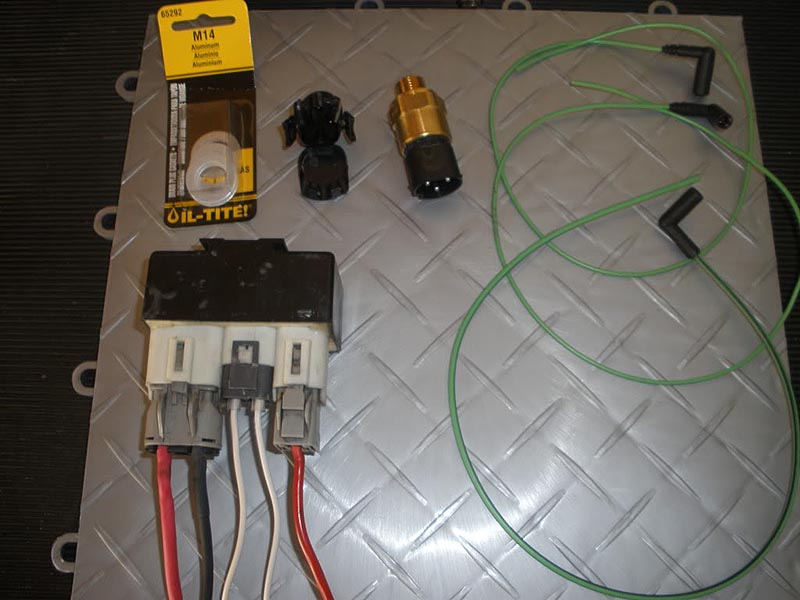 And here are the part #'s... #61318361787--BMW temp switch 180°/195° #61311378073--BMW temp switch 195°/ 210° #61131378412--BMW 90° angle connector #61130007445--BMW 90° green connector wires 2 required #61130007446--BMW 90° reen/black connector wire for ground #1398845--VOLVO dual fan relay. Most of these can be found at any bone yard but I chose to buy the temp sensor, connector and wires new. The Volvo relay I picked up with the wires at the local pick and pull... (this pic and part #'s I got from http://www.nastyz28.com/forum/showpo...&postcount=123 ) so enjoy..!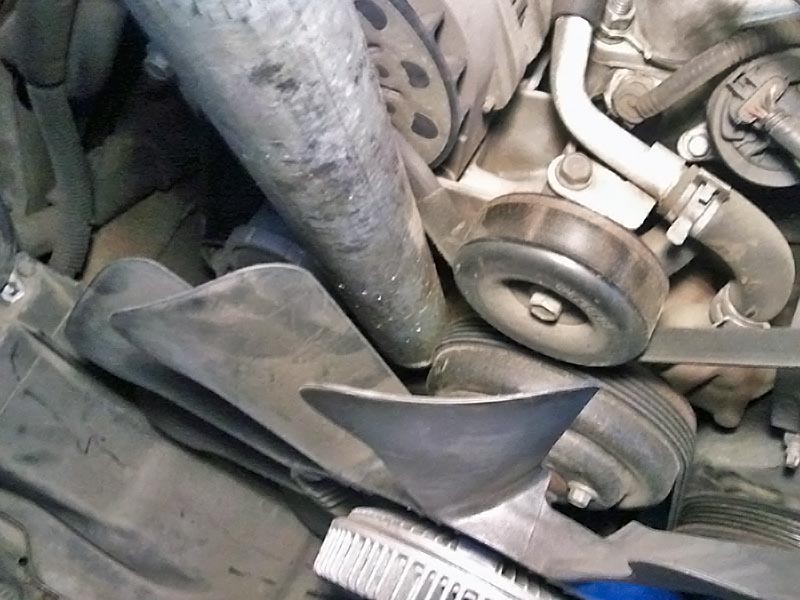 So the first thing to do is to take the clutch fan off... This can be a p.i.t.a. if u don't have an extra set of hands...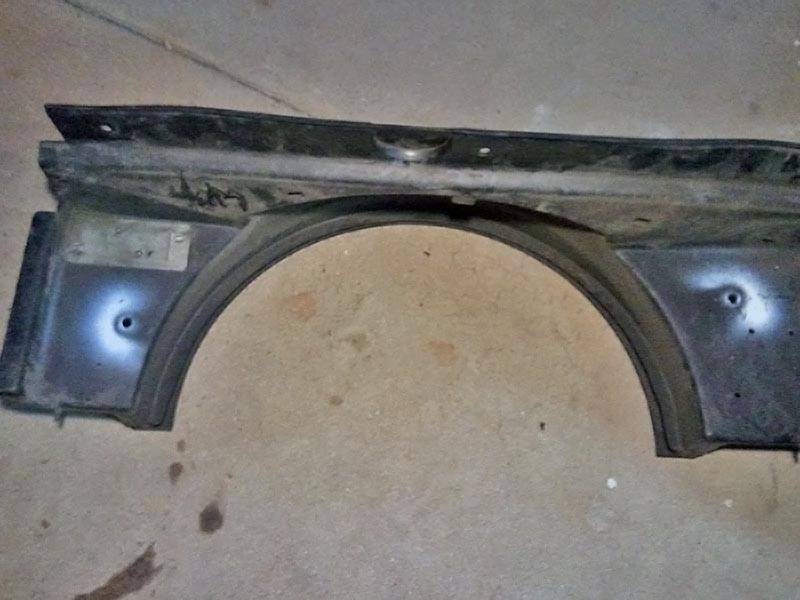 I centered the mark8 fan shroud inside of my Tahoe's shroud, spray painted the mounting holes...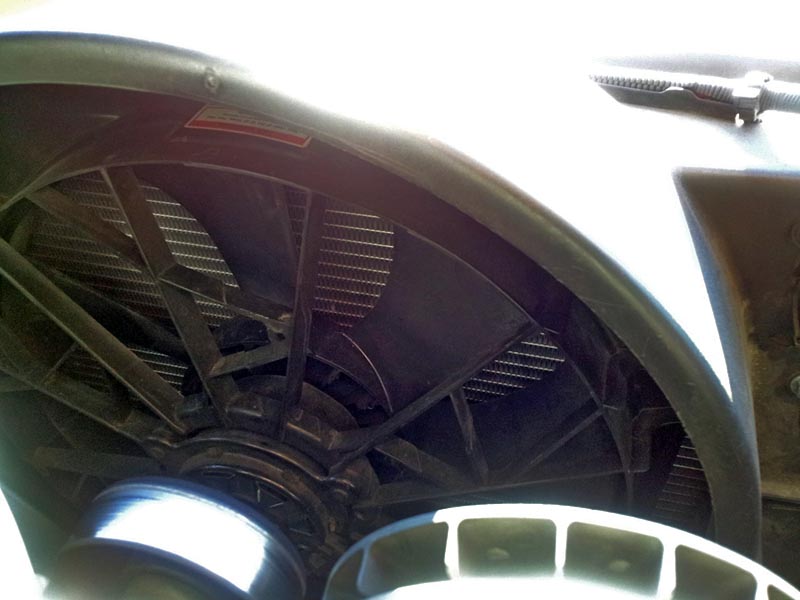 All bolted in...




New upper hose... Mark8 pigtail... The little gold thing is the bmw temp sensor... Summit inline hose adaptor (thanks sparg tyf)... and last the item is the Volvo dual speed fan relay...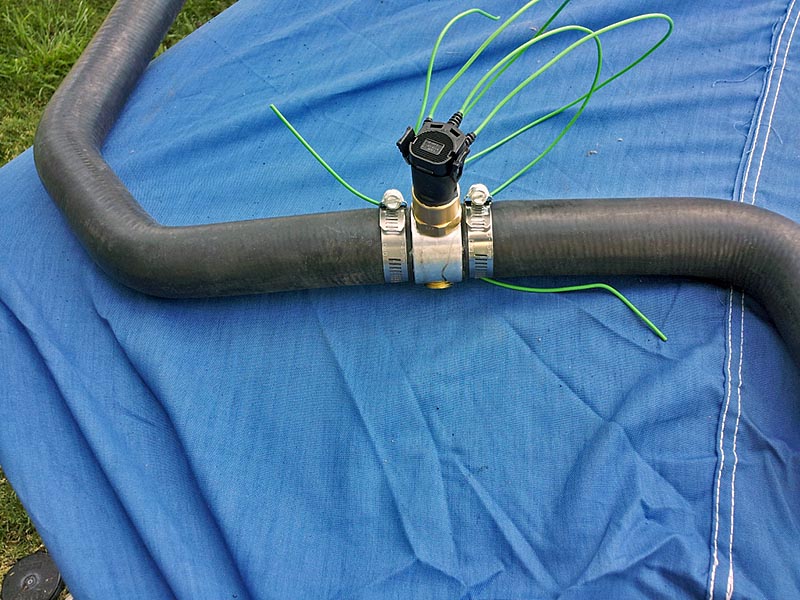 Bmw sensor on the summit adaptor ( http://m.summitracing.com/parts/ATM-2283 ) ... This summit adaptor came with a 3/8 fitting for a sensor... But this bmw sensor is a 14mm x 1.5 so I plugged the 3/8 and drilled and tapped the other side to 14mm x 1.5...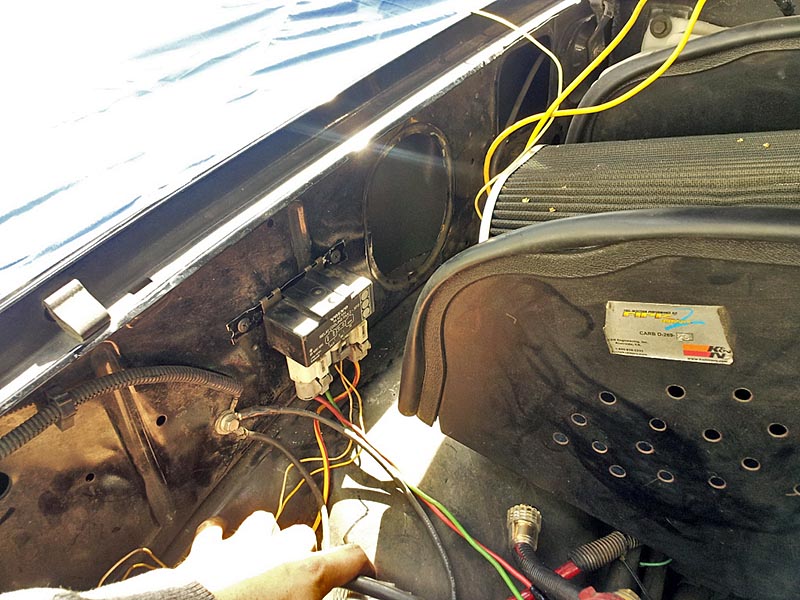 So the way it works is the bmw sensor grounds the Volvo relay at the first temp 180° and activates speed 1... Temp 195° grounds and actives speed 2... You'll probably never even use speed 2 unless you tap into your a/c controls like I did...
*** Update as of May 2013 I realized with the help of Sunlitcomet, that these temps are incorrect. I have a 160° T-stat and my truck needs a 195° to burn efficiently. So unless you are supercharged, a 160° may do more harm then good. I've replaced the T-stat with a 195° and changed my BMW temp sensor to the higher temp part # 61311378073--BMW temp switch 195°/210°. I've added both BMW temp sensor part #s above so you can use which ever you like. I apologize if I mislead anyone...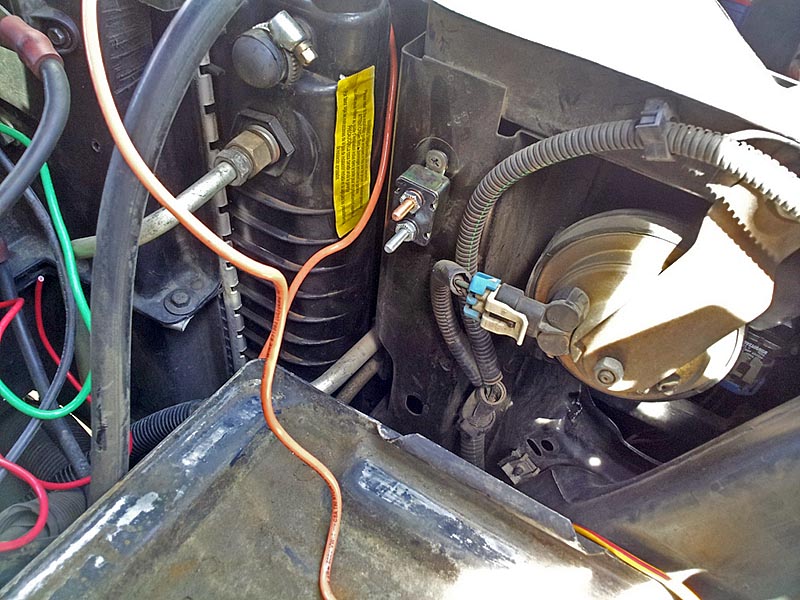 30 amp self resting circuit breaker...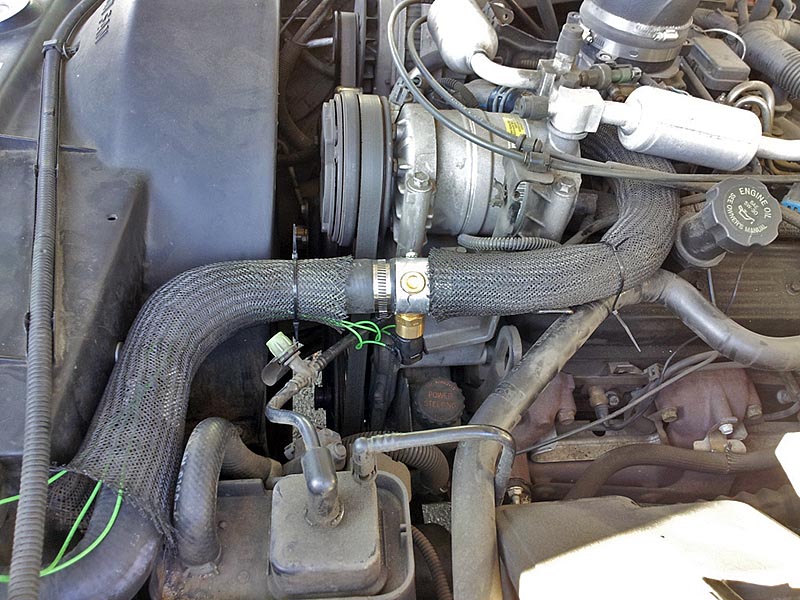 Everything in place and wired up real nice like...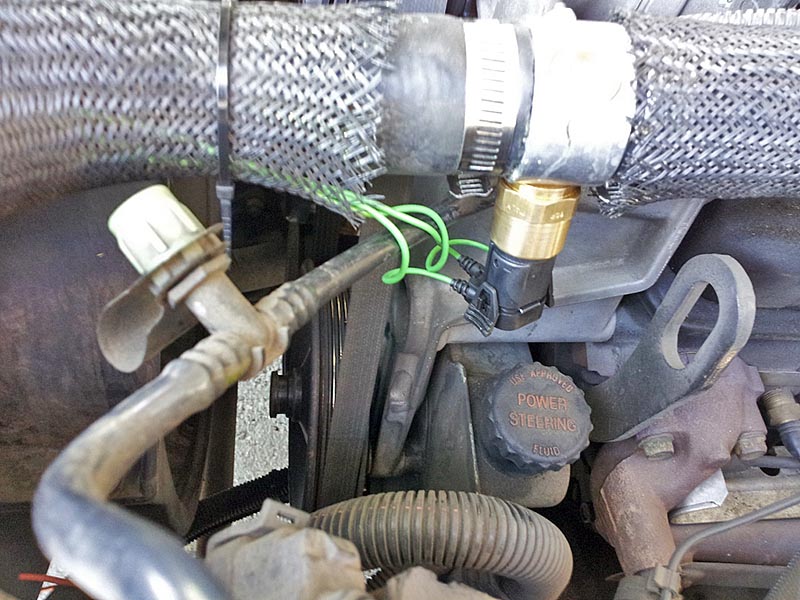 Again bmw sensor... Overall it is an awesome mod, and not very difficult. Just took a while to educate myself with these things and hunt parts down... In total I probably spent $70 to $80 if that... I hope this helps yall & good luck...

Here's my Wile E. Coyote schematic...

Addendum:
If you choose not to use the Volvo relay setup, you must use a relay system that is designed for high enough amperage. Mosy people use a 75A+ relay setup as the Mark VIII fan can draw alot of amperage on startup. Relays rated for 60A or more should be sufficient, but can be hard to find.
You can also run both speeds of the fan with a 12200411 PCM without needing a separate thermostat for the fan. The 411 PCM uses the stock thermostat input to, as well as other variables and data to control the fans. The fan settings are fully controlable within the PCM tune with EFILive or other tuning suite. If you choose to run it through the PCM, these are wiring diagrams which will work for it.
These diagrams have various optional setups, the indication LEDs, override switch, and diodes are optional.
The diodes are used as a free-wheeling diode to help maintain the longevity of the control relays, but aren't required for the system to work correctly.
2 relay diagram:
if you're not able to find 5 pin relays with high enough amperage ratings, you can use 2 high amperage, 4 pin relays to handle the fan power draw, with a regular 5 pin auxiliary relay like this: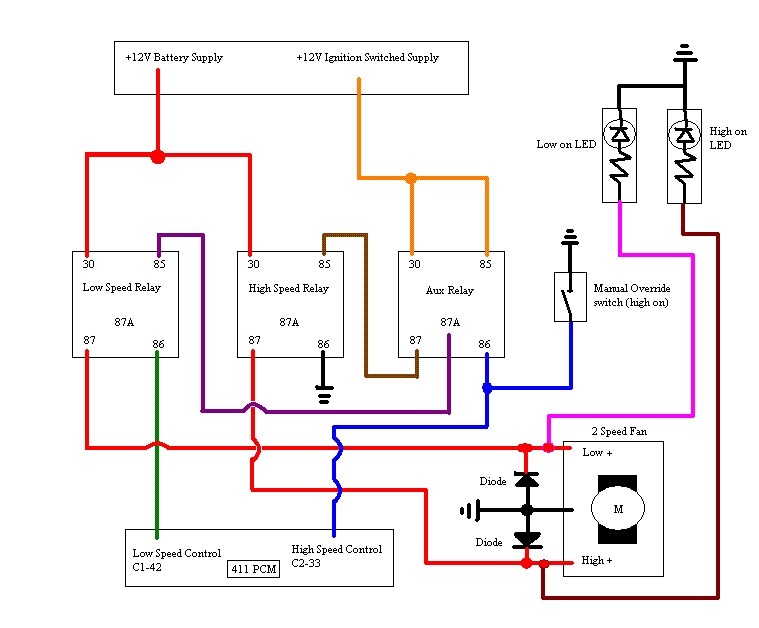 To comment, discuss, or ask questions about this article, please click here to visit our forum.