by:Aloicious
Feb. 9, 2011
Study conducted throughout January 2011
Please read the disclaimer page
Please visit our FORUM. All discussion, questions and comments about this article are welcome.
if you like this oil filter study, check out our air filter study too!
So in my quest to find the best oil filter I decided to do some testing. I purchased 31 different oil filters that were listed for my truck, a 1996 chevy C1500 with an L31 5.7L Gen1e vortec small block chevy.
Please note, this study is not, and does not claim to be a replacement for ISO filter testing. This study is designed to test the claims made by the various manufacturers. All rankings and grading provided are my own personal interpretations. All the raw data and information collected during the study is also provided so you can make your own judgments.
Each of these filters were tested in multiple ways, the construction was reviewed like some of the other oil filter comparison studies out there on the web. But then, each filtering media was filtration tested using a standard 30µm contaminant, and a select few were tested again using a 5µm contaminant.
Click here for the filter gradesheet, an value based overview
Click here to view a rundown of filter construction specifics and notes
For the filtration testing, after each filter was disassembled and all measurements and construction was examined, the filtering media was cut into 70mm circles. These filtering media circles were saturated with heated oil and placed into a 70mm büchner filter funnel vacuum filtering setup. The filter funnel was placed and sealed on top of a thick walled vacuum filtering flask. The vacuum was provided by a vacuum pump which pulled an almost full vacuum (~14psi) which simulates the oil pressure of the engine, although its lower than what is typical for our setup (which typically runs between 20-50psi), but 14psi is still considered in the 'normal' range from GM, so it does provide an accurate comparison. The test oil was heated to between 90-99 degrees Celsius, which is approximately full engine operating temperature, and 100mL amounts were mixed with approx .250g of contaminant and mixed well. This mixture was then filtered through the oil filter media circles, this filtered oil was collected and re-filtered again through a separate 90mm büchner filter funnel using a standardized 90mm fine lab filter paper which filters 98% at 2.5µm. The excess oil was filtered through the testing filter paper and then photographed next to the correlating 70mm filter media circles using a fixed normal lens (35mm f1.8 lens on a 1.5x crop sensor Nikon D90 DSLR).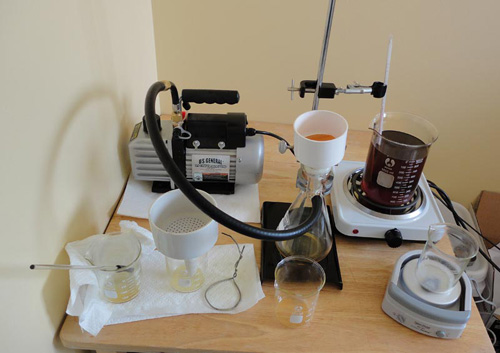 The contaminant that was used was a standardized spherical aluminum powder of 30µm diameter. This 30µm powder was weighed on a scale accurate to 0.002g. The top 2 performing filters with the 30µm contaminant were then tested again in the same manner using another unused 70mm filtering circle and a 5µm spherical aluminum powder.
Click here for a rundown of the 30µm filtering test temps and contaminant mass
Click here for a rundown of the 5µm filtering test temps and contaminant masses. Also additional information.
A better oil filter media provides a cleaner testing filter paper since the oil filter media circle filters out more of the contaminant. Therefore a cleaner 90mm testing filter paper is an indication of a better oil filter media.
Since the review of the filtering test is rather subjective, in order to help the review I took the center section of the test filter paper image for each filter test and converted them to black and white to remove any color artifact in the image, and placed them in order for what I felt was the best performing (cleanest filter paper) at the top, to the worst performing (dirtiest filter paper) at the bottom.
Click to see the compiled filter paper image here
Below are all the filters that were tested, with their part number.
Click on the filter name to view the specifics and full images of that filter and it's testing. Once viewing the filter specifics, click images to show large sized images.
To comment, discuss, or ask questions about this article, please click here to visit our forum.