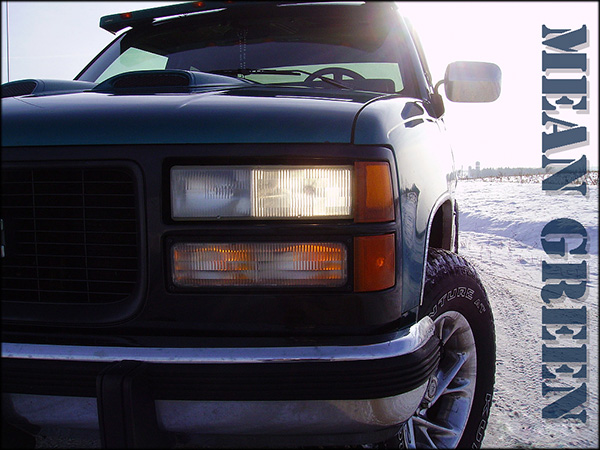 Year: 1994
Make: GMC
Model: Sierra SLT K2500 Extended Cab Short Box 4X4
Build Date: 07-28-1994
Purchase Date: March 6, 2008 (with 84,xxx miles)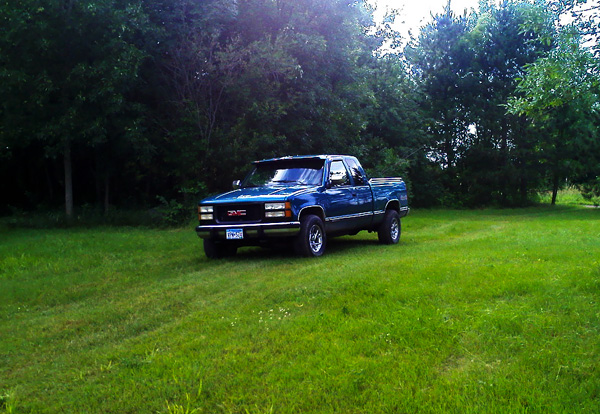 Engine: 5.7L 350ci
Trans: 4L60E
Rear End: 14 Bolt SF (3.73 gearing)
Wheels: American Racing Nitro series 16"X8"
Tires: Kumho Road Venture A/T's 265/75R/16
Exhaust: 3" cat back to a 22" long Cherry Bomb (3"ID)
Audio:
Sony CDX-CA710X Head Unit
Sony XPLODE 4X6" Speakers (3 Way's)
Pyramid 1" Super Mini Tweeters
Infinity 6X9's (rear; Coming Soon)
Body Accessories:
Lund Lighted Sun Visor
Lund Gennisis roll up tonneau cover
Lund Eclipse Hood Scoops
Spray in Bed Liner
Putco Stainless Bed Rails
LED 60" Light Bar
Interior Accessories:
Colt CB Radio
Hidden CB Antenna
Overhead Console
Red Courtesy Lights
Red LED under dash Lightbars
Red NEON light tube (backseat)
Keyless Entry
Mods:
3" Tail pipe
3" Thrush Chambered Muffler
Colt 355 AM CB radio
Lund Gennesis Roll Up Tonneau Cover
Putco Stainless Bed Rails
(2) Sylvania Cool Blue Sealed Beam
(4) American Racing Nitro Wheels
(4) Kumho 265/75R/16
Rust Proofed Frame
3" OD Cherry Bomb Glasspack muffler
Sony CDX-CA710X Cd player
GMC composite grille, Headlight & parking lights
Relay (4-High Headlight Modification)
(2) Sylvania Silver-Star Ultra (9006 highs)
140 amp GM Alternator
Lund Hood Scoops (Medium; Color matched)
7 pin Round Trailer connector
4 Flat to 7 Round Plug Adapter
OEM GM Rear Bumper
Overhead Console
Stainless steel Air Horn
PA speakers
Anzo 60" LED Light-bar
Bulldog Keyless entry unit
Sylvania Silver-Star ultras (9005 lows)
Pyramid 1" tweeters
Sony XPLODE 4X6 front speakers
March of 2008, I was in the market for another truck and knew exactly what I wanted. It had to be GM and an extended cab, short box. And I wanted either a 95' or 94' with low miles. So after about 3 months of searching I found it, an older gentleman about a half hour away from me in the Little Falls area had one for sale. I had cash in hand, went and looked at it and could tell immediately that it was a good truck. It was an aqua green metallic 1994 GMC Sierra SLT K2500 (6 Lug) 4X4, had the grey cloth interior with bucket seats, and center console. It's got the 350 under the hood, that's pretty much stock for the most part, a 14 Bolt SF rear end (3.73), and a 4L60E Transmission.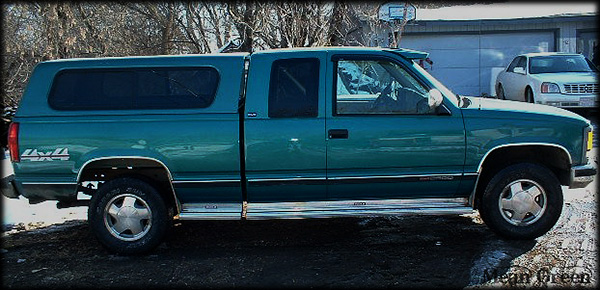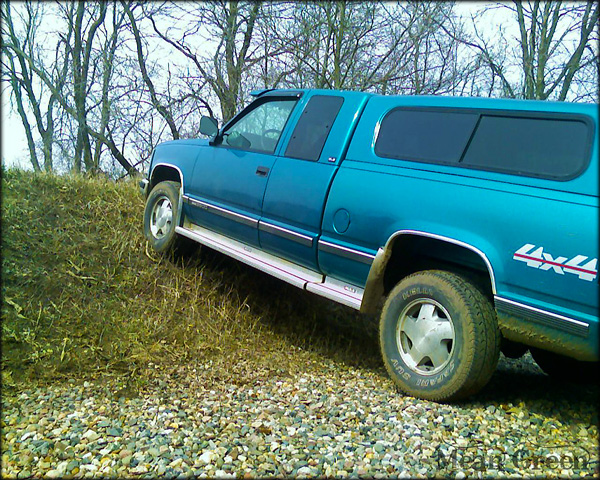 At the time when I purchased the truck it had a Raven fiberglass topper, and full length running boards (both of which HAD to go IMMEADIATLY!!) It had 84,231 miles on it when I bought it, so that was a very important factor also.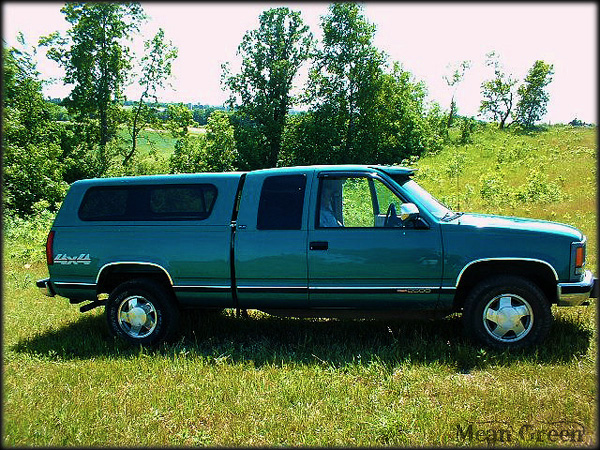 It had some Kelly tires on that where shot, but that didn't matter because they would have been changed anyways.
This is the day I mounted the new wheels: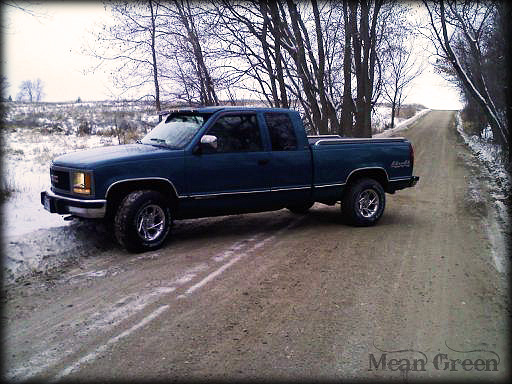 The paint was in MINT condition, as was the interior. The only thing that I didn't like was the dinky W/T style grille. The previous owner had swapped it in for some odd reason. That also HAD to go!!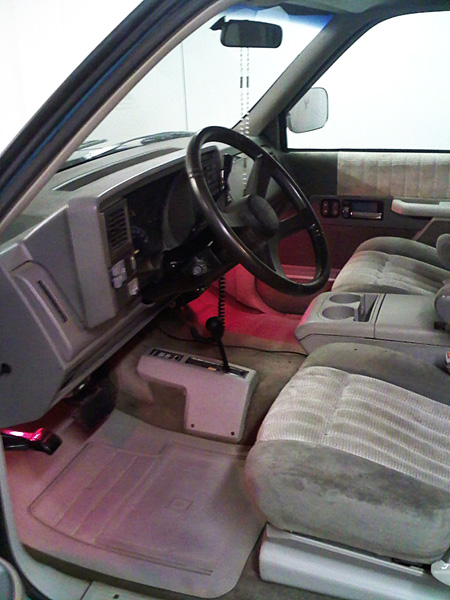 Here it is with my Basstracker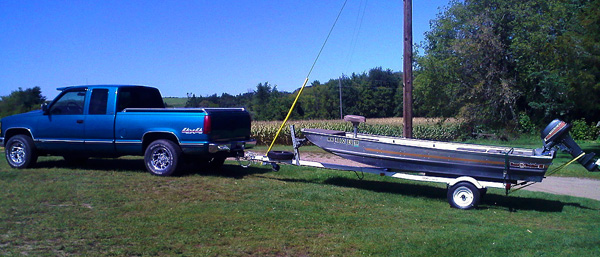 Anyways the deal was set in stone, I handed him the cash and he handed me the keys to what is now known as the MEAN GREEN GMC! I had many plans for the truck, most of which have been fulfilled. By the end of the year it looked like an entire different truck, and kept progressing to the present, as you can see through the pictures.
I removed the box and rustproofed the frame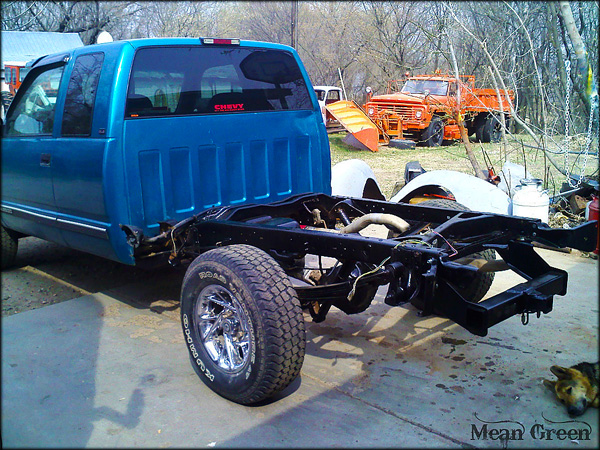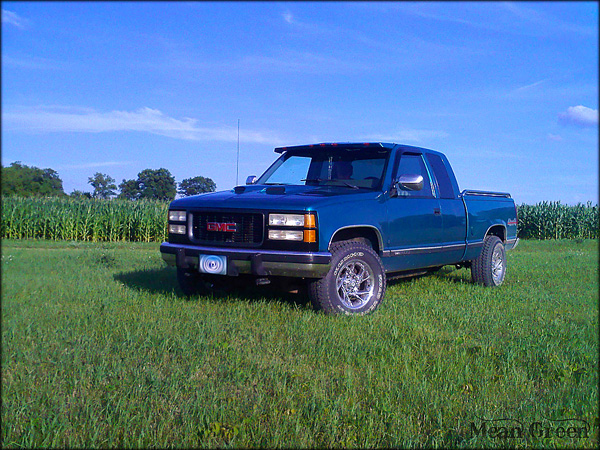 Here's the GMC with my Manhattan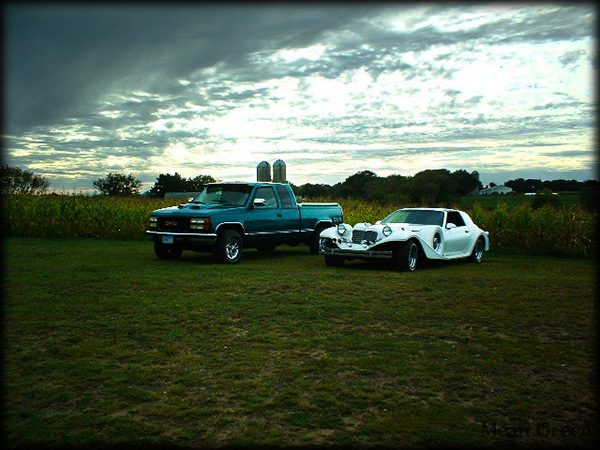 And some of my favorite pics of it in the snow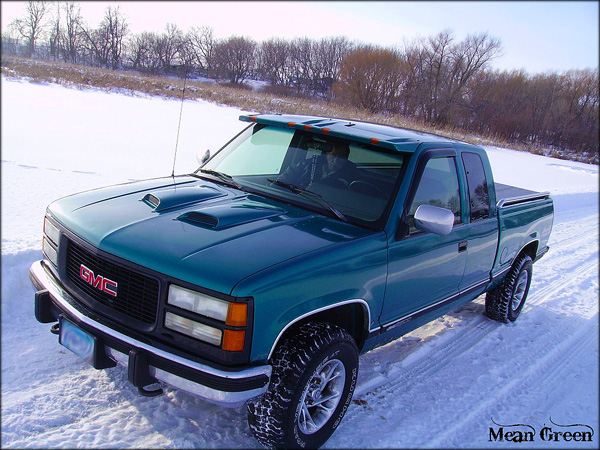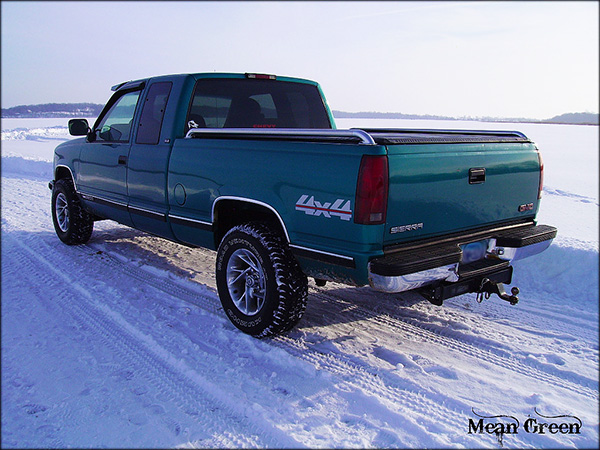 To comment, discuss, or ask questions about Mean Green's 1994 GMC, please click here to visit our forum.