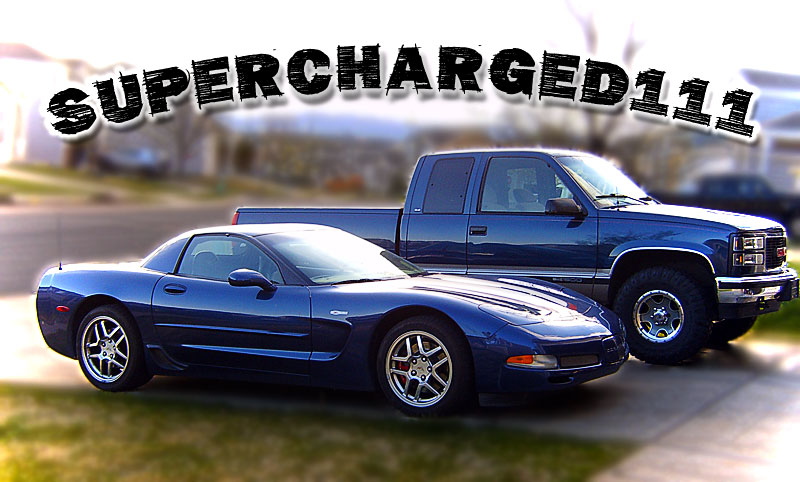 Year: 1998
Make: GMC
Model: K1500
Purchase Date: February 2009
Engine: 5.7L L31
Trans: 4L60E
Rear End: GM 14 bolt semi-floater, 4:10 with factory G80 limited slip, 7200# GVWR rear leaf springs
Wheels: 16x8 Summit Brand
Tires: 285-75/16 Goodyear Duratrac
Suspension: 7200# GVWR rear leaf springs, cranked front.
Exhaust: Long tube headers and dual 2.5" pipes merging into single 3" with a Magnaflow muffler
I bought the truck in Feb 2009 with nothing but Timbrens out back (with the meager lift, they now function as bump stops) and slide in camper side receiver dealies. My first and most significant performance increasing mod was EFILive where I was able to rewrite the timing table, delete brake torque management, reduce torque reduction, and all the other little stuff that bugged me.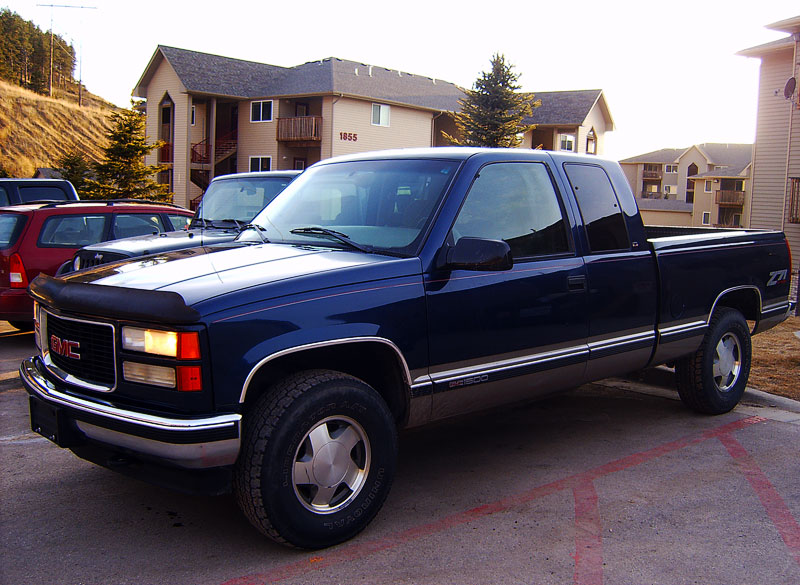 Next was long tubes and dual 2.5" merging into single 3" with Magnaflow muffler. Looks stock on the outside. Next I added a trans temp gauge and swapped the Tech Edge wideband out for a permanently installed AEM, both are on the A-pillar. My dad got me an XM receiver for Christmas which is awesome when the only thing radio stations play is commercials and talk shows in the morning. I also swapped out the stock front speakers for 3 way 6.5" Kenwood speakers. Upon installation I realized that the truck actually had factory tweeters.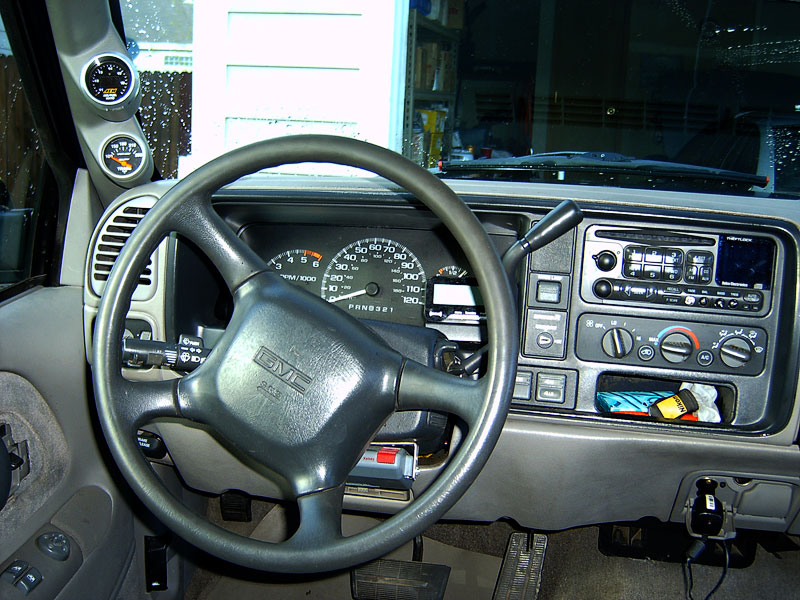 Since the only reason I still own a gas guzzling full size truck is to haul stuff, it was time to make it better at hauling stuff. I added a 14 BSF rear end with G80 (absolutely brilliant in the snow, doesn't help much with 1 wheel peels on dry pavement as it unlocks at 30mph~) 4.10 front end, and 7200# GVWR rear leaf springs. The front required swapping the actuator side of the diff housing to accommodate the newer style non-thermal actuator.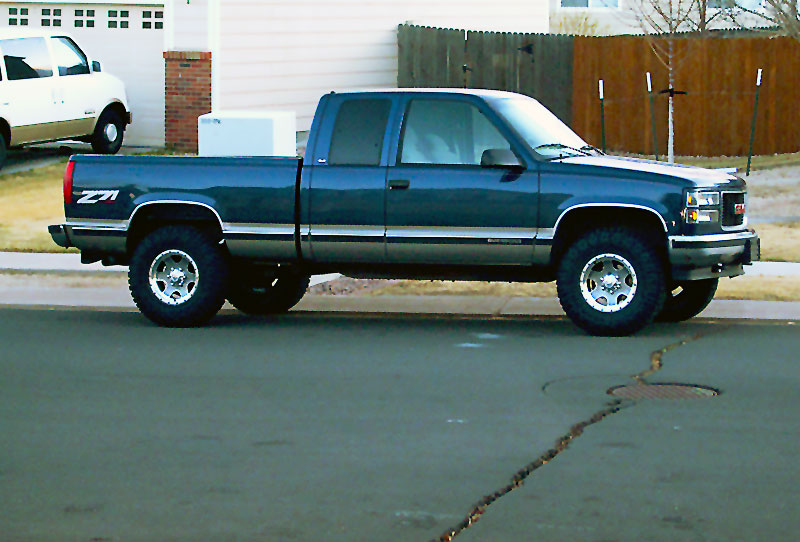 For looks I added aftermarket headlight housings, blinker housings, 6000k HID lows, 4HI mod in anticipation of the HID hi's that I have yet to install,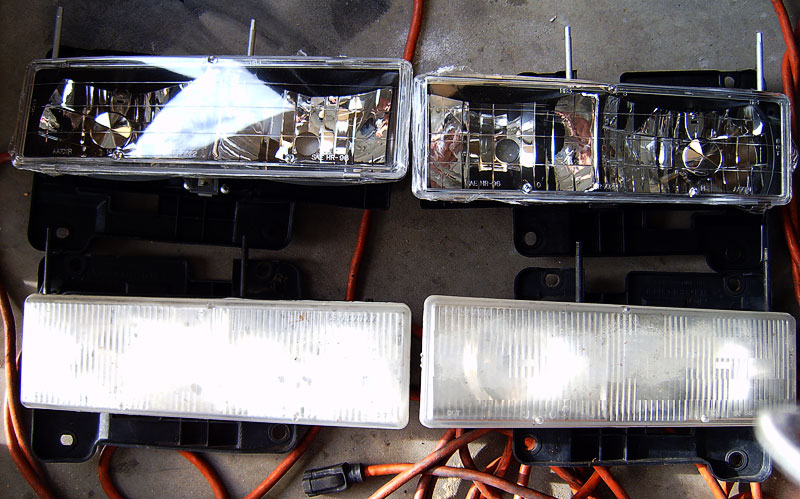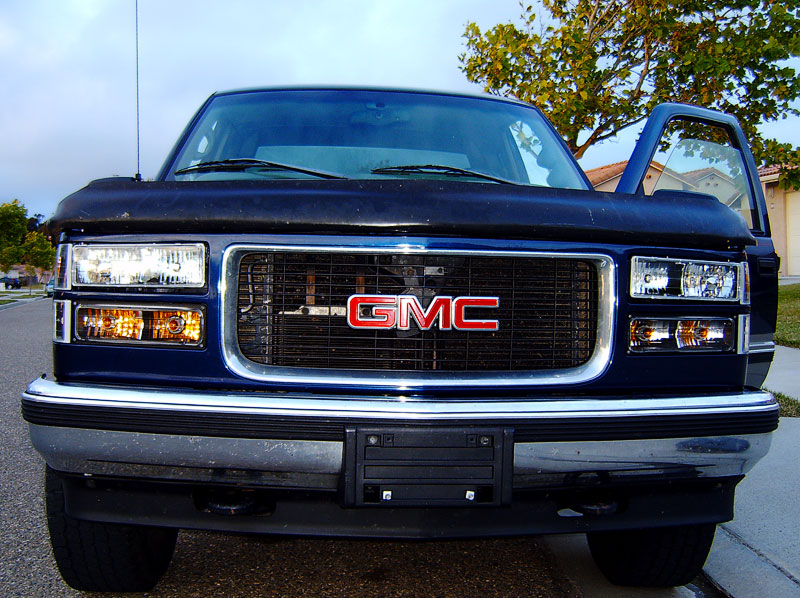 and 16x8 Summit wheels with 285-75/16 Goodyear Duratrac tires. While the tires do hook well in all conditions, they are worlds squishier than the tires that they replaced.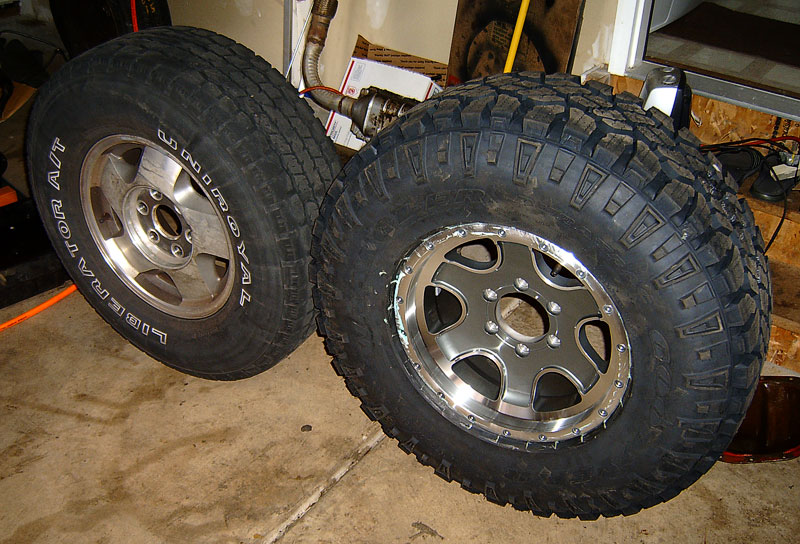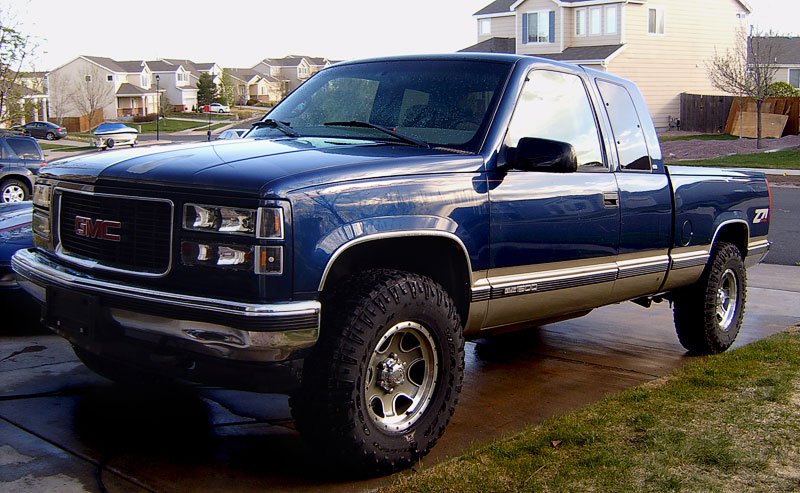 Somewhere along the way, I deleted the ABS pump, swapped in lines from an '89 TBI truck, and replaced the rubber lines with SS, new Brembo blank rotors, 8600# GVWR front calipers, and matching Hawk LTS brake pads. While the truck stops with much greater authority than it did with stock brakes and stock tires, it's still laughable to think such woefully inadequate (upgraded at that) brakes would be on a truck rated to pull over 6000#.
I also added one of those nifty under hood storage boxes that occupies the space not occupied by a driver's side battery.
I added LEDs to the interior as well. I used the WLED-xHP5 bulbs for the gauge cluster, NEOx-xHP for the headlight switch, and 74-xHP for the HVAC panel. I also did the dome light with a UPCB-xWHP30 up top (required festoon base as well), WLEDB-CWHP6-DAC for the 2 floor lights, and WLED-xHP5 natural white for the doors and glove box. It's like daylight when I hit the dome light now. I won't lie, the blue dash is a lot to take in and with the HP bulbs, is brighter than stock even with the blue. I'm happy with them and want to do the Corvette with them as well as it doesn't have that great of a dome light system as it's designed as a convertible first.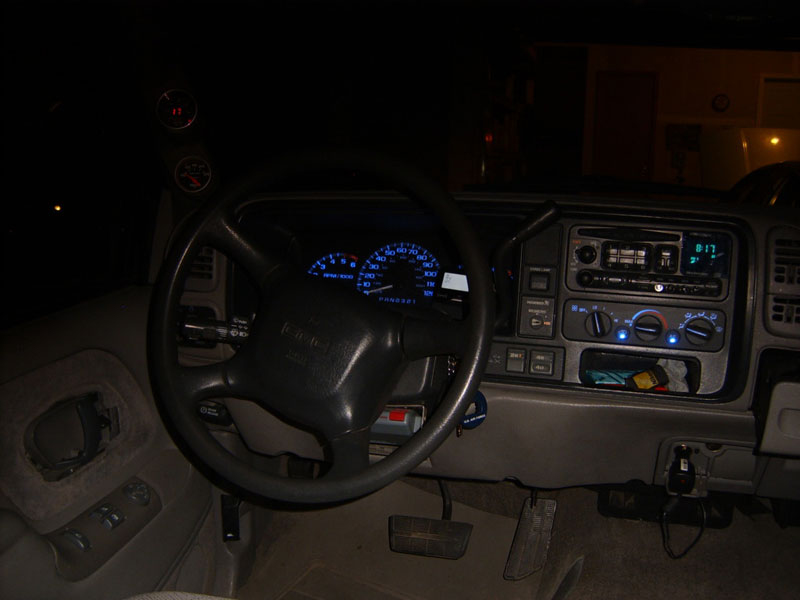 Future mods include:
-a hydroboost swap (because I value my life),
-Whipple supercharger (in a box in my garage, awaiting the 411 swap),
-LT1 cam (in the garage),
-and marine intake which is what's holding up the LT1 cam swap.
I'm not sure what to do about a transmission just yet, because I don't have much faith in the current 4L60E once it sees boost. Then again, since I have underdrive pulleys, it'll probably make approximately sea level power up here at 6200' where I live slowed down. The threat for fuel is when I trailer my car to sea level as inevitably I'll have to merge into traffic and rap the truck out and that's where it'll run lean and explode instantly knowing my luck.
To comment, discuss, or ask questions about this article, please click here to visit our forum.